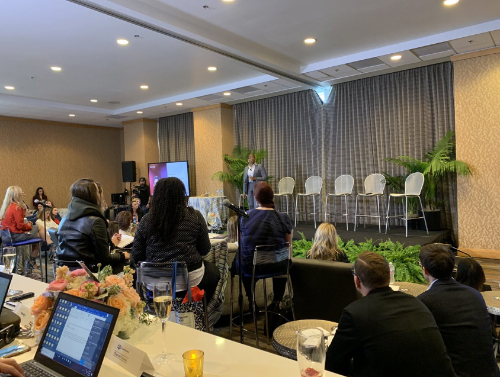 In the months leading up to Ingram Micro Cloud Summit X, the channel was promised an event like no other. Ingram Micro did not disappoint. With two new initiatives launched and over 1,600 attendees, the 10th-anniversary summit in San Diego was a true celebration of the ISV's commitment to helping partners succeed in dynamic cloud markets.
One year after aligning with Microsoft to form CloudBlue, Ingram Micro had much to spotlight — like the support of the platform by over 850 engineers and the sale of more than 30 million seats by channel partners. But the bigger focus was on the future — the opportunities awaiting discovery where "X" marks the spot — what Ingram Micro defines as the intersection of inspiration and innovation.
The nature of these opportunities and the strategies being taken to unleash what Ingram Micro calls the" infinite potential of the cloud" dominated the discussion during the three-day event. Here's a recap of some of the more interesting ideas and lessons I heard while representing Channel Marketing Journal:
From Women in the Channel — Value rises with growth and expectations. Carla Harris, a Morgan Stanley vice chairwoman, attached dollar values to the intangible assets of professional networks and merit explaining that while the former holds its value at $2.25; the latter trails at $1.50 with diminishing returns. In other words, good work leads to a rise in stock price and increases expectations others have of your work. The message for

channel executives: Never underestimate the value of your network.

On whether cloud alliances require partners to align with a team

—

Bob Kilbride, Senior Director of Global Channel Sales at CloudHealth by VMware, had an interesting take on this question. He told

Channel Marketing Journal

in our

interview

 that when all bets are on multi-cloud,

competing alliances are less like the Red Sox and Yankees and more like the RedSox and Jets — in other words, competing cities in different sports altogether.

When it comes to customer engagement, marketing consistency and relevance get results

— the Azure marketing team touted a

marketing program

that's driving on average a 40% increase in revenue for participating partners.

Recognition is motivating

—  An Ingram Micro SharkTank-inspired opportunity challenged partners to submit their software ideas for a chance to be showcased at Cloud Summit X. The Comet competition inspired a lot of interesting solutions — including this one from scheduling software company,

Deputy

. Congratulations to Deputy and all competition winners!

Problem solvers win

. When the founders of

PickIt

created a solution to make life easier for Microsoft customers all over the world, they become a top Microsoft ISV.