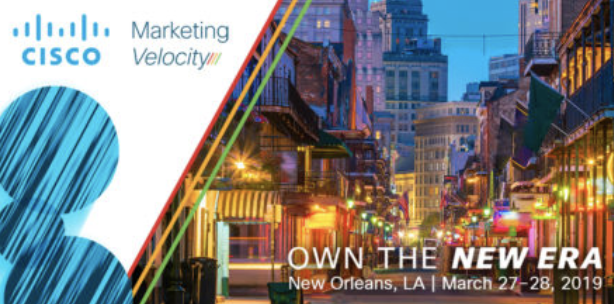 Launched 12 years ago, Cisco Marketing Velocity is a one-of-a-kind event focused 100% on supporting marketing activities. Of all the take-aways, the one that sticks with me most is the idea of meeting customers in the channel.  
The "meet in the channel" imperative stems from customers' growing tendency to view partners not as sellers of single products, but rather as providers of complete solutions that solve business problems. Cisco's channel enablement strategy is centered on helping partners create these more integrated offerings.  
Karine Elsen, Cisco Director of Global Partner Marketing, summed it up in our interview: "By offering integrated solutions for our partners, Cisco is more likely to earn a bigger share of the customer wallet." So instead of 1+1 yielding 2, it instead equals 4 or 5.
As a journalist and marketer watching and living in the market, I am deeply interested in understanding how companies historically motivated by self interest can transform to be more aware of customer needs and committed to solving more complex problems.
In our interview, Michael Hopfinger, Cisco Director of Americas Partner Marketing, said it best: "We are in a transforming market. We need to take our traditional programs and evolve with the market needs." Listening to his commentary, it's easy to understand why Hopfinger's favorite city is Tokyo — a place that never loses its sense of history even while in a constant state of transformation.
As for walking the talk, @John Moses lives and breathes the meet-in-the-channel mantra. On the road over 40 weeks during the year, he works closely with partners to help them drive greater success. Supporting Moses is @boonlai, who helps by bringing Marketing Velocity programming to where partners are through online events and education. The bottom line: Cisco is serious about its meet-in-the-channel mission and extends it to all parts of the business.
All in all, Marketing Velocity was a huge hit. The partners we spoke with expressed as much excitement for Cisco's transformative channel initiatives as Cisco executives. In the next edition of Channel Marketing Journal, we will share more insight on the meet in the channel trend from partners, distributors (including Ingram Micro) and technology partner Citrix.
Congratulations to the Cisco team, @MichelleChiantera, @BoonLai, @JohnMoses