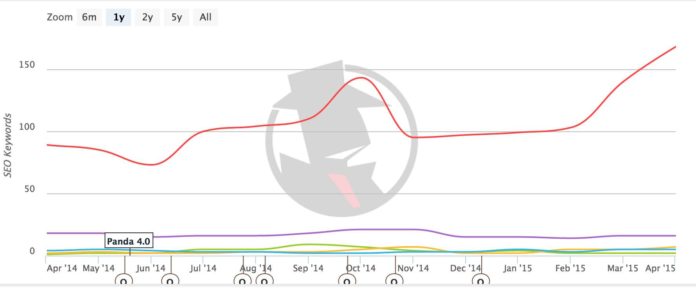 Demand generation campaigns, syndicated landing pages, whitepapers, webinars, events, MDF. Manufacturers who sell through the channel are offering it all to their partners! But despite all of these tools, actual implementation and performance can vary widely.
Upon review of many channel partner companies we work with, we have seen some basic trends.  In particular, in this article, we will attempt to explain why some channel partners are seeing great results via organic traffic and why some are not.
Here are the SEO clicks measured for the websites of two such companies below.
Company 1:
Company 2:
Both of these companies exhibit a nice upward curve when measuring the number of clicks attributed to natural search.
In the chart below, we chart the SEO clicks for three other channel partners in the same industry. These companies are showing a downward trend in their organic clicks.
What we observed from the first two organizations is that they are very active with their content. We call these companies, "Content Active". They have invested time and effort to ensure that they are using their voice to explain the benefits of their products and services. They produce relevant, engaging, and even fun content every week.  They use a mix of distribution mediums for their content including email newsletters that direct people back to the content on their website. They are also actively sharing these links on Twitter, LinkedIn and Facebook.
In addition, these "content active" companies are beginning to see the value of getting third parties to promote or share their content on social media and specifically Twitter. Twitter is now allowing Google to crawl tweets, which increases the value of Twitter even more.
The three companies in the last chart have also been producing content. However, what we can see from further analysis of these sites is that they include a stream of syndicated content. While syndicated content has value, Google does not recognize a syndicated article the same as it does an original one.   
As a channel partner, it is not easy to avoid the duplicate content syndrome. After all, much of the technology you are selling requires important white papers, brochures, and technical materials provided by the manufacturer. This is what makes the publishing of additional original and unique content such a critical factor in the success of a technology reseller.
The answer to these challenges is to not overhaul everything you are doing, but to take steps to help improve performance.  A first step is to perform a review of your content programs using tools like Spyfu.com or SEMRush.com to monitor your own organic results and those of your competitors.  Also spend some time on sites like Topsy and Buzzsumo to see if you are generating any buzz in the social sphere.  If these indicators are down or low, then it might be time to try something new.