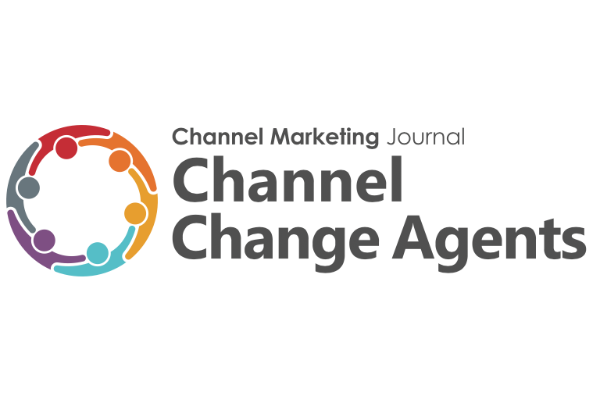 BOSTON, (February 20, 2019) —  Today, Channel Marketing Journal, an online publication and community where channel chiefs share insights with each other and their partners, announces its first-ever "Channel Change Agents" roster — a list highlighting 2018's most innovative channel leaders.
Channel Marketing Journal launched Channel Change Agents in October of 2018 to recognize channel leaders that have defied convention to engage partners better, disrupt traditional thinking and drive higher levels of channel contributions with new ideas, strategies and programs.
We'll be highlighting the accomplishments and experiences of our 2018 Change Agents in future editions of Channel Marketing Journal. In the meantime, please join us in congratulating these inspiring individuals and teams:
Best Channel Pitch
When you're a channel chief, you never know what fun experiences will be pitched your way. Conlon is a pro at turning every experience into an opportunity, and ensuring every business decision contributes to partner success.
Mike Conlon, Vice President of Global Channels, Mitel
Best "Sellers"
Persuading partners to do business with you is all in the approach — something top salespeople, and these gentlemen, know all too well.
Sal Patalano, Chief Revenue Officer, Lenovo Software
Rob Rae, VP of Business Development, Datto
Joe Sykora, VP of Worldwide Channel Development, Bitdefender
Best Unsung Hero
Relationships with channel partners need constant, behind-the-scenes tending between deals to thrive. For excellence nurturing these partnerships at Microsoft, Ishak's "green thumb" earns a turn in the spotlight.
Diana Ishak, Senior Manager, Microsoft One Commercial Partner
Channel Rock Stars
Not everyone can help drive triple-digit growth in a year or create a channel where once there was none. For these and other reasons, these women rock!
Dee Dee Acquista, VP of Worldwide Channels, SentinelOne
Heather Tenuto, VP of Sales for SMB Services, Office Depot
Most Hands-On
These channel leaders find working hand-in-hand with partners both personally rewarding and a main driver of partner and vendor success.
Lisa Penn, Director of Global Channel Marketing, SAP
David Powell, GM, Service Provider Business, LogicMonitor
Andrew Sage, VP of Global Distribution Sales, Cisco
Chris Weitzel, Senior Global Channel Marketing Manager, Siemens
Mark Wilcox, VP of Channel Operations and Strategic Accounts, Varonis
Rising Stars
Between the two, these women have produced outcomes that have earned themselves or their employers' award-winning recognition in the channel. Their stars are on the rise, and Channel Marketing Journal predicts we'll be hearing more about these channel players in the year ahead.
Jeanine Sicinski, Partner Experience Manager, Rapid Scale
Sara Moody, Senior Marketing Programs Manager, Veeam
Seattle's Best
Building teams to lead partner networks larger than that of Amazon Web Services and Salesforce combined is no easy task, but these channel executives do it with excellence. "Seattle's Best," they've brewed up a great menu of channel programs.
Cheryl Miller-Sindelar, GM, Worldwide Channels, Microsoft One Commercial Partner
Sarah Muckler-Visser, Worldwide Director of Go To Market Services, Microsoft One Commercial Partner
Top Cloud Advocates
These folks, their heads are always in the clouds, finding new and more creative ways to ease partners' entry into cloud-first markets.
Amy Belcher, Lead VP of Global Channel Marketing, Xerox
Renee Bergeron, Senior VP of Global Channels, Ingram Micro
Tim Fitzgerald, VP of Cloud Channel Sales, Ingram Micro
Timm Hoyt, VP of Global Partners & Alliances, Druva
Top Dynamic Duos
Channel enablement is a team effort — and our "dynamic duo" honorees are tops at creating winning teams centered on partner success.
Cylance
Didi Dayton, VP of Worldwide Channels and Alliances
May Mitchell, VP of Worldwide Field and Channel Marketing
Cyxtera
Tina Gravel, Senior VP of Global Channels and Alliances
Tamara Prazak, Director of Channel Strategy & Marketing
Top Shark
Siraj's "Shark Tank" approach to channel enablement is incredibly motivating to partners and a win-win for the partnership.
Faraz Siraj, Regional VP of Channels, Distribution and Alliances, RSA Security
Top Thought Leaders
These folks are always thinking ahead. For that, they have the channel's ear — and ours. The lessons they share are invaluable.
Sandra Glaser Cheek, VP of Global Channels, Ciena
Glenton Davis, Global Business Strategist, Microsoft
Heather Margolis, Channel Maven Consulting
Jay McBain, Principal Analyst, Forrester
Maeve Naughton, MKN Consulting (formerly Head of Partner Marketing at Sage Intacct)
Luanne Tierney, CMO & Head of Global Marketing, Open Systems (formerly CEO of LT & Associates)
Larry Walsh, CEO and Chief Analyst, 2112 Group